PLEASE NOTE: If you want to buy one of these originals, contact me and we will make arrangements for shipping it to your location. Each piece is unique, so I have to calculate each one at a time – that's why there are no links to paypal. Contact me!
Prints of the Drawings are available on acrylic, metal, canvas and paper, framed and unframed at PrintsbyLyon.com – Each one is also available as mugs, shower curtains, pillows, tote bags, duvet covers, greeting cards, and more.
Lone Canoe
Acrylics on canvas, 9″ x 12″ available: $399.00
This very simple, very bold painting was such a bear! I went through 11 variations until I got it to look how I wanted. I was entranced by the way the shadows climbed over the canoe….

.
Hapai Times 2
(hapai = 'with child' in Hawaiian)
Acrylics, 10″ x 10″ Available $299
Olowalu Beach from the Ocean
Acrylics on Paper-canvas
My friend, author Everett Peacock (I created 2 of his book covers), flies his remote-control plane over all kinds of places in Hawaii. This is part of a view of Olowalu, a quirky beach on Maui, as seen from the ocean in his hovering airplane.
SOLD 
Haul Canoe II
In the afternoon at Kailua Beach, you'll see the local outrigger clubs training out on the water. I love how they look when they bring their canoes in.
SOLD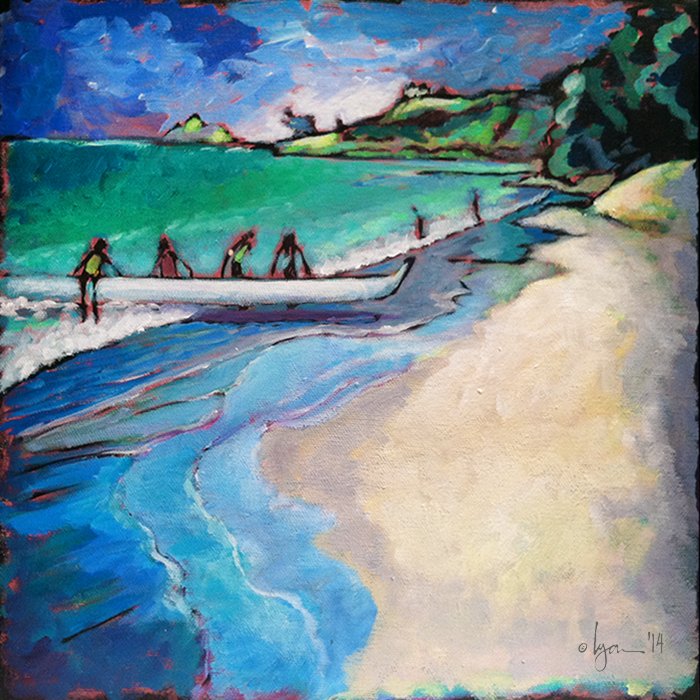 .
.
.