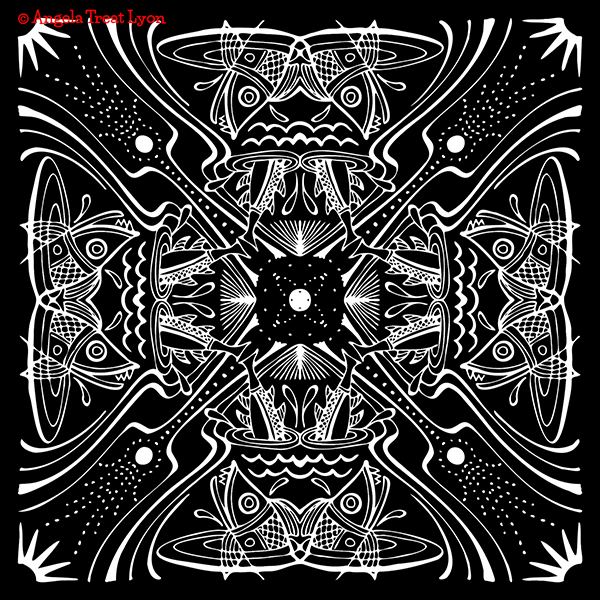 I have an all-time favorite artist. I think he's the best artist in the world, actually. I've never seen work so rich. It's carefully and correctly derived from his culture. It's inspired, deep, original and unique. Well-done is an understatement. And chew your heart out – I won't name him because he'd be embarrassed.
I mention him because he's the source of so much inspiration to me that sometimes I just can't draw, paint or write fast enough. I could choose any one of his cultural murals and take it apart and be inspired by its elements and never repeat myself for days.
One of the things that confused me for a long time was that he uses completely arbitrary wavy lines and jerky straight edges to separate colors and themes. Compared to the other intricate and detailed elements, these lines seemed to upset the order of the whole.
Finally last week, I got it. Those lines are the underlying energy of the universe! I've never seen a video of his creation system, but I'm betting that, once he chooses a theme, he feels the energy, and goes right to the paper for the first sketch, and pencil in hand, swoops the movement of that feeling! Betcha!
So last night I sat back and closed my eyes, and asked the Universe to give me a feeling and a movement I could start a new piece with. In nano-second time flat, this rush of river-ish energy came through my whole body, and I 'saw' all these enormous celestial fishies jumping and gliding and diving and swimming in the fluid, starry, comet-ed waters. The suns were glowing all around, and our moon, bless her little heart, sat right at center stage.
And I'm sitting there thinking, "I'm supposed to get all THAT into the wee drawing??? Snort! Suuuuure!"
Well, I opened my eyes and just took a chance and swooped my pencil over the smooth surface. See the swoopy lines that pull out from the center and glide down diagonally to the corners? Those were the first lines.
Every last thing from then on just seemed to fill itself right in all by itself – from the divers to the coming-ups to the little waves – all of it. I'll show you the color ones another time – I wanted you to see the power of the original drawing first.
I tried another one later, and it's crazier than this one was.
I love the energy of drawing like this – it was so smooth, and so fast! Thank you, Mr. M., bless you and your incredible mind, heart and Being – may you be able to continue making scads more of your amazing creations for a long, long time.
I'm looking forward to feeling and drawing more crazy!
text & image © Angela Treat Lyon 2022
112922