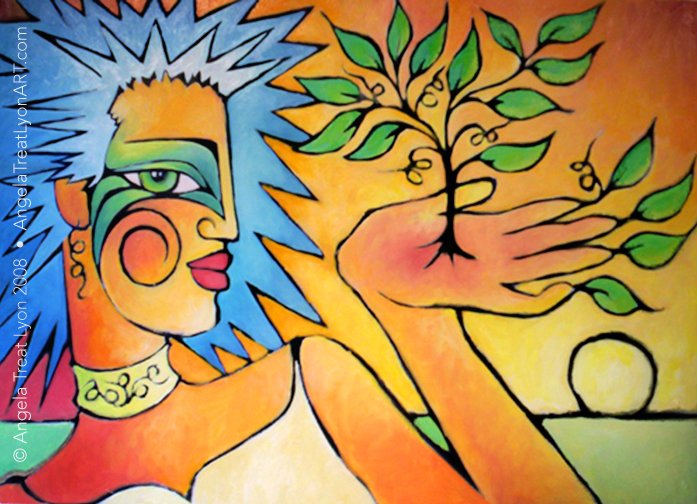 When I was a little kid, I saw a wedding on television. There were the usual people – bride, groom, best men and women, and then – the Maid of Honor.
"What? What is that," I thought. "Made of honor? How could anyone be made of honor?"
Ever since then, when I hear the word 'maid,' I immediately think of the word 'made.'
So when a friend of mine came by one day and was talking about a sculpture she was working on called Maid of Day, guess what??? My mind went off on its own little jiggety path and saw a woman full of light, mischief in her eye, and spring growing right out of her hand. She was Made of Day!
The process
Since I get too involved in the process of painting sometimes to record the steps they take, there are only two pre-final pix of this one. In the first one, you'll see I used an ochre background as I (clumsily!) drew out the forms.
Then I filled in all the spaces with gold paint, just to see what it would look like. Not liking that, I filled it in with a coat of thin white. The rest went into what you see now at the top of this page. I wanted it as light and bright as I could get it. (The original has sold.)
If you'd like to get some greeting cards of this image (who wouldn't???), go HERE!