Artist in Residence! From December of 2000 to April of 2002, I had the honor and privelege to be the first Artist in Residence in a little town named Gore, waaaay down near the chilly very bottomest of NZ's South Island.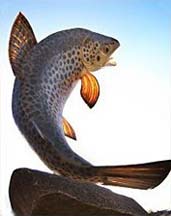 Gore, which is also known as the Brown Trout capital of the world (!), is located smack dab in between Dunedin (pron. dun-EE-din) and Invercargill (well, they say in-vah-KAH-g'll, but I can't say it at all). They even have a 15 foot sculpture of the Brown Trout right in the middle of town (see left).
Since Gore is so close to the South Pole, it was pretty chilly for this tropical gal – I wore my wooly red jacket 90% of the time – even in the midst of summer. Everyone teased me mercilessly.
The guys, on the other hand, wore heavy down jackets, big wooly socks up to the knees and huge clonky boots…with their big hairy thighs sticking out under their very short shorts. Go figure.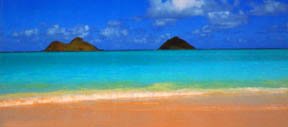 You can see why when I was used to weather like this (see left) – this is Lanikai Beach on the island of Oahu, Hawaii, where I live now. Nice and warm!
Gore may be a small town, but it's by no means unimportant. It serves the large surrounding area's sheep and dairy farms, and is, as well, becoming a prominent factor in the NZ art scene.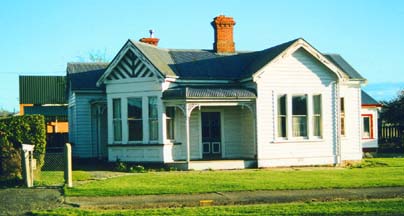 Here's the house my dear friend, Freda and I shared. She took me in and gave me shelter for the entire time I was there – she was my personal angel. Cool house. Too bad it isn't there anymore – it was burned down by an arsonist a year after I left. Freda just barely escaped with her life.
While I was there, Jim Geddes, the Director of the Eastern Southland Historic Museum, and the Eastern Southland Art Gallery, asked me if I'd like to initiate the first classes and have a studio at an old church that they wanted to convert into an Art Centre. Would I? You bet!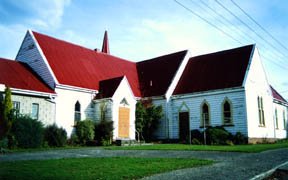 So for a bit over a year, I was fortunate enough to be able to teach painting and drawing, creative writing and other classes – as well as being able to use the room as my own studio.
See the room that sticks out to the far right? There it is – that's where many fine budding and experienced artists passed through that door in those months. I was proud and thrilled to have the opportunity to teach and work there.
I also served as a counselor/Life Coach, and taught EFT (see EFTBooks.com) and facilitated the sponsoring of other EFT instructors coming to Gore.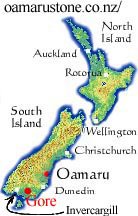 Here's a little map of New Zealand. See Gore way down near the bottom?
Yeow, I had such a hard time with the cold! When the wind blew and the sun was behind a cloud – man, forget it! Like being sliced with ice. The South Pole's only a couple thousand miles away, and I wore my big red jacket almost every day – even sometimes during what they called summer.
And now I'm happily back in Hawaii, teaching EFT, writing more books, painting (see left), and producing and hosting my own Internet Radio Show at IDareYouRadio.com.
Here are a few pix of where I live now.