This is an excerpt from an excellent article written by Annie Strack, a well-known and widely respected maritime artist. Read the rest of this important article by clicking HERE or on the link at the bottom of the excerpt. I've seen some of the things she's talking about….
"…At a regional juried show I recently chaired, I received up to a dozen phone calls a day from artists complaining because they didn't hear about the show sooner.
It wasn't enough that the call to artists was published in several newspapers and dozens of artists newsletters months before the deadline, or that thousands of entry forms were prominently available at all the local art supply stores and galleries, or that the prospectuses were handed out at every art show, art festival, and art club meeting within the region for the last two months.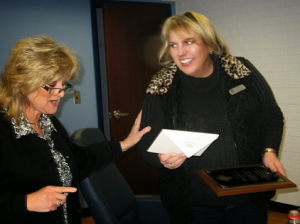 These artists were complaining that they weren't personally notified and asked to enter the show.
Other artists called to complain that they didn't like the juror's credentials.  One of them told me that she believed that all art shows…"
Read the rest HERE. (opens in new window)
Image: (Annie Strack receiving a special plaque commemorating her decade of service as Show Chairman and other Offices in the St Bernard Art Guild)
_________
Article Copyright 2008 © Annie Strack. The edited version of this article was first published in Art Calendar magazine in 2008, and the original version was published 2008 in the book (The Artists Guide To) Art Business and Marketing by Annie Strack. Visit the author at www.AnnieStrackArt.com.
.