Your Own Commissioned Piece!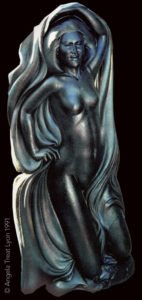 Your commissioned painting or sculpture can be placed in your bedroom, living room or foyer; or perhaps you want it in your garden or patio area; in your office, or the lobby of your business.
Artwork by Angela Treat Lyon makes any environment more elegant and beautiful!
Primavera
bronze 48″ h x 36″ w x 4″ d
To the left is a bronze sculpture I did for a collector of fine art in California. It looks three dimensional, but is actually a bas relief, about 4″ in depth from front to back.
It's curved, and is set against a stone pillar looking over one end of his swimming pool. It was $35,000.
.
What would you like for your home or office?
Take a look at the following information, and see how easy it is to have something made especially for you.
1. STYLE
What kind of style most pleases you?
abstract
figurative
stylized
allegorical
a combination of some of the above
2. PLACE
Where do you want to put your new piece of art?
This will help determine how big your new art piece will be, and what materials to use.
If you have an idea where you want to place the artwork, how big a space will it be? Remember that it will need space around it so it doesn't bump the walls or ceilings of its surroundings.
3. YOUR BUDGET
How much have you planned to invest on your new piece of art?
4. PLACEMENT and CARE of  YOUR ARTWORK
Your new piece of art needs a safe installation location
You'll need to prepare for its care (easy)
It needs a weather-safe location, or a weather-safe finish
Will it be placed inside or outside? This will determine what materials to use to ensure the longevity of your new artwork.
Will it be exposed or protected from weather, wear and vandalism? This determines the finish I use in order to keep it from winter or weather harm.
IDEAS
Do you have an idea for a piece of art that might be like something you see on this site?
Something that might be like a piece of art or photo you have seen elsewhere? If so, you can provide photos or pictures for reference.
If you don't have a specific idea for what you want, we can discuss further until we get to the point that I can make sketches so we can come up with something I can do for you.
WHEN DO I START CREATING?
I start carving or painting once I have a concrete agreement with you about what you want, and know that I can fulfill that.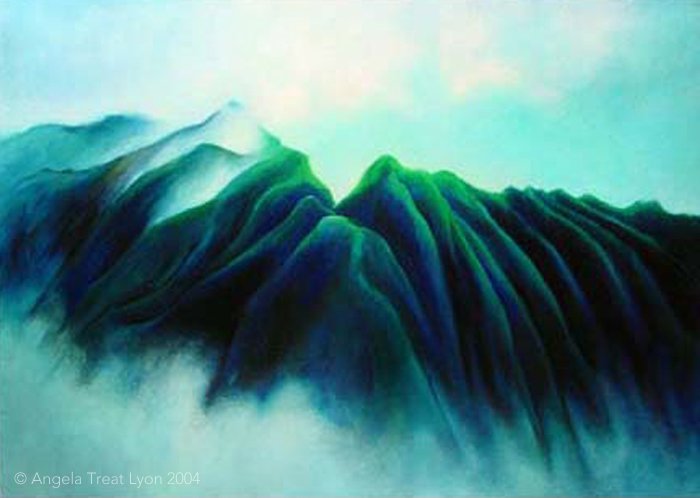 This is a painting I did for my chiropractor in Honolulu. He has it in his office now, for his own and his clients' pleasure. It was $7500
MATERIALS I WORK WITH
soapstone
marble
alabaster
bronze
oils on canvas
oils on archival paper
oils on archival board
gouaches on archival board
other choices are available
YOUR BUDGET
I suggest you be very specific as to your budget requirements so you avoid either over-spending or inability to meet payments.
TIME
A piece of art can take anywhere from one week to months to complete, depending on the materials used, the complexity of design or installation, and any number of other factors.
I strive to meet schedules as timely as possible, and if I cannot, always communicate with you and make new arrangements suitable to us both.
AGREEMENT
We make a written agreement that stipulates:
the idea of the piece
payment agreement
delivery agreement
installation agreement
maintenance provisions
approximate time for completion
DEPOSIT
You make a NON-REFUNDABLE deposit of one-third of the final, total agreed-upon price
START CREATION
I commence creating the piece
I SEND YOU PIX
As soon as I think it's at an appropriate stage for you to see the progress made, I send you pictures of the piece for your approval or if you are nearby, call you to come take a look
1st APPROVAL
You approve progress so far – or not –
Discussion follows
Continuation of project
2nd PAYMENT
Upon approval of progress so far, you send a check for one-third final price
COMPLETION & PIX
I complete piece, send you pictures or you come see
APPROVAL
You approve final version – or not –
Discussion and changes commence if not approved
Call for re-approval
You approve
SHIPPING
Packing and shipping costs determined
FINAL PAYMENT
You send check for final one-third price plus shipping and handling
I SHIP or DELIVER in PERSON
I send out/ship out or deliver sculpture
INSTALLATION
If applicable, I can install it for you.
If I have to travel to do so, you cover my expenses traveling there and accommodations.
Get a better idea what it takes to commission a piece now? Good!
I invite you to email me so you and I can start looking at what I can create for you!
You can contact me at any time using the golden tab to the left of any page on this site!
Let's get you going right away!