Congratulations!
You've made a great choice to get Hapai X 2!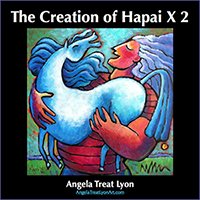 Please make sure you have sent me your postal address so I can ship the painting to you. It will go out within 24 hours, or on the first weekday after your purchase.
SURPRISE! You also get the special ebook I made –  "The Creation of Hapai X2" as a little thank-you.
Right-click on the cover to download the ebook.
Make sure you don't just read it in your browser, or it will disappear once you close the window out. Be sure to download it all the way to your computer.
You can contact me anytime by clicking on the green contact button to the left of all pages on this site. I'll get back to you as soon as I can.
And thank you so much for liking my work enough to buy it – I so appreciate it.
Angela Treat Lyon
.
.