Virtual EXHIBIT: Birdy x 10 (Now 14!)




Thanks for coming to my Virtual Gallery Exhibition – I hope you enjoy your visit! 
It all started 4 years ago when a friend brought me this poor little pathetic single shriveled leaf in a tiny pot, knowing I have some kind of strange plant magic where I can bring back just about any plant from dehydration, starvation and near death. She said, "Here, make it grow, can't you?" Well, OK.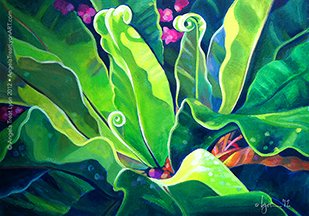 I fed it and nurtured it and told it that it was beautiful, and soon it became a budding genius, producing 9 or 10 little leaf nodules (I call them nubbies) at a time in a ring around the inner center of the plant, about twice a year. (Image: Birdy One – • sold)
Each time it makes new nubbies, the leaves it makes get longer and longer – each of the latest ring of leaves is about 6′ long. I sit next to it in the garden, and we hold hands/fronds and gaze at each other and we whisper sweet loving nothings into each others' ears/stems.
Now it's taller than I am, and has a wingspan of about 14′ – I have to put supports under the leaves to keep the lawn mower from cutting the ends of the leaves off!
I'm continually amazed by the number of different views possible of this one plant. After doing the 11th painting (!) inspired by its powerful leaves' sinuous twists and turns, I decided I ought to have a show of all of the works. Here they are below – I hope you enjoy them all.
Click on each image to go to its expanded view in a new window.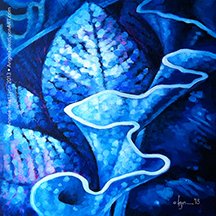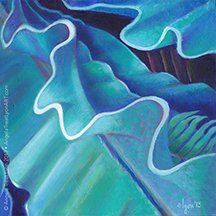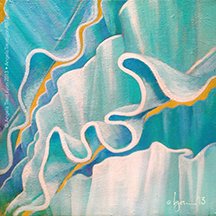 Left to right:
RAIN, 12″ x 12″ – acrylics on canvas
RUFFLES, 12″ x 12″ – acrylics on canvas • sold
GOLDIE – 12″x 12″ – acrylics on canvas, background is gold luster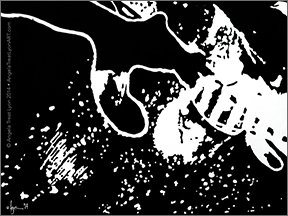 THE EDGE, 18″ x 24″ – acrylics on canvas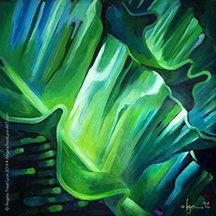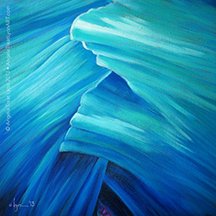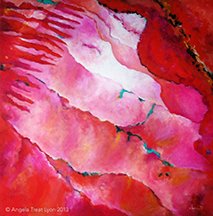 Left to right:
BIG BIRDY, 20″ x 20″ – acrylics on Archival Art Board
OVERLAP, 12″ x 12″ – acrylics on canvas
RED MEDLEY, 20″ x20″ – acrylics on Archival Art Board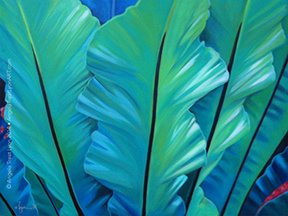 SISTERS, 18″ x 24″ – acrylics on canvas
Left: FROM MY HEART  Right: THE REBEL – both 24″ x 18″ – acrylics on canvas
NEW!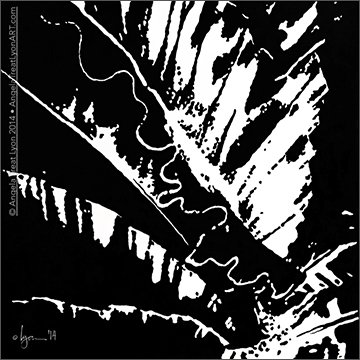 CELEBRATE – 24″ x 24″ – acrylics on Archival Art Board

..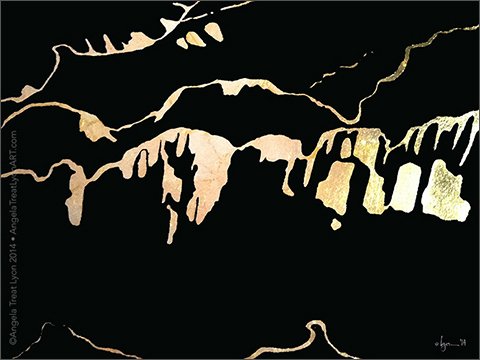 BLACK GOLD BIRDY – 18″ X 24″ – acrylics and gold leaf on canvas
..

WAVY BIRD – 18″ X 24″ – acrylics on canvas
..
…………….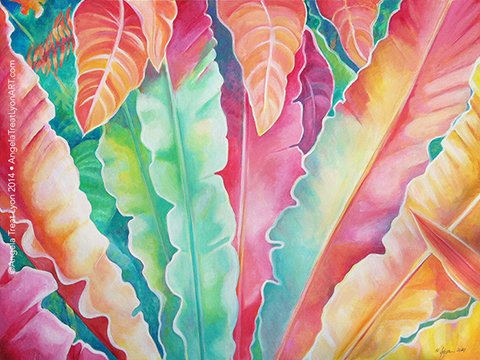 …………….>>>>…..RAINBOW BIRDY – 24″ X 30″ – acrylics on canvas
..
GET ART:
Click on each image to see the full, expanded view of each painting.
Paypal buttons are under the ones that are for sale, so if you'd like to buy one, you can do so using paypal or your credit card. Or, use the golden contact button to the side of this page to contact me to make other arrangements.
If the painting you like isn't available for sale, please go HERE – you can get a high quality giclée print on canvas, a framed print on paper, a poster, a greeting card, or a number of  other print options!
NOTE:
These paintings are not in any gallery at the moment, As soon as they go into one, their prices will double. Get your paintings at lower prices now while you can!
RECEIPT:
When your payment goes through, you'll get an email from me, and we'll go from there to arrange shipping. If you live on Oahu, you can just come pick up your painting, but if you live elsewhere, I'll have to pack it up and ship it to you. S&H vary according to the destination.
IMPORTANT:
If you live outside the US, you can bet shipping for any of the larger ones (over 12″ on a side) is going to be at least another $100 to $200, so be prepared.
SHARE ON FACEBOOK!
If you have a Facebook page, maybe you'd like to win one of my Art Ebooks and a Wall Calandar – the person with the most shares wins! Do this:
Copy, paste and share all of the following note with your friends, you can win my Art Ebook and Wall Calendar for most shares!
"I invite you to see my friend, Angela Treat Lyon's Art Show at https://www.facebook.com/AngelaTreatLyonART – And make sure you post my name and #BirdyArtShow on her page so she can see you came from me, OK? Yes!"
FREE PRINT!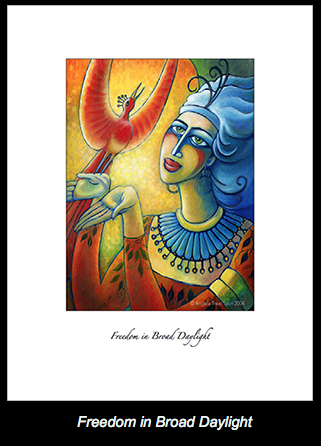 Thanks so much for visiting my show – I hope you have enjoyed it!
CLICK HERE or on the image to the right to download your FREE PRINT!
Use good paper (I like Epson matte-finish paper) to print it out, and hang it out of direct light (bright sun). I hope you enjoy having it!