Good for you for starting to collect art!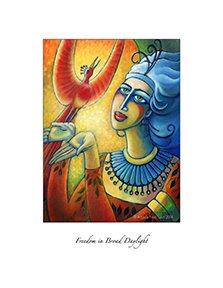 In my experience, the people I've met who collect art have been more intelligent, more forward thinking, more fun (mostly!) and more sophisticated.
Did they start out that way? Who knows?!?
I guess the process of living in the world, being curious about the way people create, and being open to new ideas are part and parcel of being an art collector.
Then there's the importance you might place in feeling connected through your collection of images to Nature, to Beauty, to color, fun, delight – all the various elements of art.
What's art for, anyway?
.. •  To help you relax, and feel more calm or more joyous.
.. •  To help you get through your day when times are tough.
.. •  To help you feel connected to others and the earth.
.. •  To inspire you to connect with your particular choice of spirituality.
.. •  To help you remember that the world outside of your home or office is a beautiful, mystical, wondrous place!
I invite you to add what YOU think art is important for in the comments at the bottom of this page – I'd love to hear why you want to collect and buy art!
And yet, what do I hear?
"I don't know where to start!"
"There's too much out there to choose from!"
"I can't afford it!"
Where to start?!?



Start here!
Too much to choose from!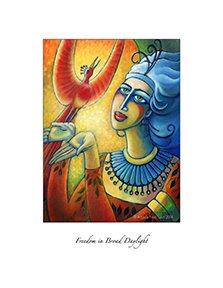 How about if I make it easy on you?
I'll make the first choice for you – how about a print of the painting to the right, Freedom in Broad Daylight?
I got the idea for it while I was thinking about how I couldn't live if I had to give up the freedom to create.
And how each of us has an Inner Something that wants to be free, fly high and soar, feel fulfilled and delighted with its life.
You do, too. Why not make that theme your first beautiful Angela Treat Lyon art acquisition?
What you get:
You get a pdf file that has the image of the painting you choose on it. It's a downloadable, password protected pdf that you can download and print out right away – no waiting for it to come in the mail.
The paper size is  8.5″ x 11″ – the same size as typewriter paper.  Once it's printed, you can plop it into a standard frame, and up it goes on your wall.
Once it's printed, you can plop it into a standard frame, and up it goes on your wall. Instant collection start!
AFFORDABLE!
Get it now – just CLICK on the paypal button below to get your first Collector's item!
It's just $15.00! You can choose to use your credit card on paypal, too.
IMPORTANT NOTE: Once you complete your payment, don't be in a hurry to close the payment window – you'll be directed to the website page where you get instructions for downloading and printing out the print!
Thank you from the bottom of my heart for liking my work enough to buy it, look at it, collect it!
PLEASE SHARE THIS PAGE!
I'd love it if you would share this page with your friends and any others who you think would like to start collecting my art – you'd make my day!
If you need to contact me, use the gold tab at the left side of every page on this website – easy-peasy! And I make it a habit to respond as lickety-split as I can.

.