Recently I visited an artist friend who had about 30 drawings that she'd framed all the same size on one wall. They were hung almost edge to edge. It was stupendous looking.
Imagine all these paintings on your wall! That's what hers looked like!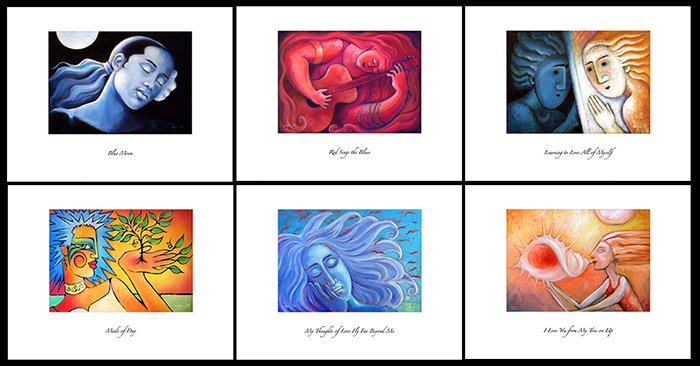 I thought, wow – that looks fabulous! I want to do that! But since most of my originals are gone, how could I do that?
Ahhhh! Prints!
And then I thought, hey, how about if I make a series of super-affordable prints available to you, so you could do it, too? When I took an informal poll and asked people if they'd like it, it was a big 'yes!'
The Freedom of Women Series
So here is the first Series! If you had them all on one of your walls, they might look like one of the groupings below – or of course, you can place them all over your house or office any way you want.
What are these prints?
Each print is a downloadable pdf file that you can open and print out immediately.
You can frame them in simple standard frames, and hang them right away – no waiting for weeks for the mail to bring them to you. Easy-peasy!
_____________________________________________
You Have 3 Easy Choices
1. INDULGE! GET ALL 12 PRINTS AT ONCE for $120.00



You get all 12 images at once that you can download right away and print out.
PLUS you get a Mystery Surprise (ha-harrrr!)
CLICK HERE to get all 12 Freedom of Women Prints (and Mystery Surprise) for $120.00
Each individual print is $15. So all 12 = $180. You get to cover your walls with fantastic, beautiful, inspirational art AND save $60!!
_____________________________________________
2. CHOOSY? GET ONE AT A TIME for $15 each
CLICK HERE to get individual prints from the Freedom of Women Series
_____________________________________________
3. JOIN the COLLECTOR'S CHOICE CLUB – get Prints for $10 each



Once you become a member (signup is free), you can get any individual or every print for only $10 each.
CLICK HERE to join the Collector's Choice Club for free
Once you sign up to be a member, you will get an email from me welcoming you.
It will include the link to the page where you can start adding to your print collection.
You get the Collector's Choice news and updates: you're the first to know of new Print Series before anyone else in the world
You get to have more art for less – at $10 each print, you save yourself 1/3 off the regular print prices
(Not to worry – you won't get a million emails every three seconds from me!)
_____________________________________________
Which choice will you make?
I invite you to add more art to your life – do it now!
.