I was honored recently to be invited to be interviewed as a part of John Bardos' annual event for artists and creatives called Art Bundles for Good. (I also gave him one of my sculpture books to give away!)
I like what John is doing.
He creates a freebie ebook of huge value, and later on, has stuff for sale. He donates a big percentage of his sales to CourageousKitchen.org, a bootstrapped charity helping refugees in Thailand.
(Click on this image to get 55 Artists' Stories, Advice and Inspiration to Take Your Art to the Next Level!)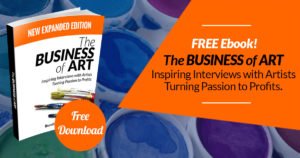 So I said yes to his invitation.
I like how the artists in the Bundle offer courses, books and programs for other artists for free to help them get off the ground, get started, unstuck and on track if they are stuck, or get to the next level if already doing well.
And the Bundle this year is fantastic, with over 100 offerings – including one of my books, Carving My Life. (At the end of my note I've included a partial list of the offerings.)
FOR YOU? OR AN ARTIST YOU KNOW?
So, if you're an artist, or know an artist who could use this, I invite you to check out the new, expanded "The Business of Art" Ebook. A whole bunch of successful professional artists share their tips on building a thriving career based on your passion (and more).
There are tips for improving your skills, how to teach courses, how to sell your merchandise, how-to's on painting, drawing and marketing and much more.
I think you (or your friend) will want to get the free ebook! It's a honey. Get it RIGHT HERE.
You know I love you!
much aloha –
Angela
1.Creative Dream Incubator – Value $99
2. 365: Activate Your Art Brain – Value $198
3. Facing the Facts Face Drawing Class Value $65
4. Learn How To Draw Cartoon Faces Value $45
5. Find Your Voice: Creativity That Is True – Value $167
6. Underpainting Made Easy – Value $45
7. Rock Your Online Shop Class – Value $105
9. Thriving Artist Master Mentors Bundle – Value $135
10. Exploring Color: Color Theory and Application – Value $55
11. From Drawing to Illustration – Value $50
12. Photoshop: Practical Graphic and Web Design & Freelance Mastery – Value $59
13. Acrylic Painting for Beginners: Dreamy Stories Told with Paint – Value $120
14. Intuitive Art Journaling Course – Value $117
95. Acrylic Revolution: New Tricks and Techniques for Working with the World's Most Versatile Medium
96. VIVID Colored Pencil – Step by Step Instruction
97. Connect with Gallery Owners, Curators, Collectors and Customers: A Guide to Getting Better at ALL of Your Art Marketplace Relationships
98. Get Your Creative Projects Finished Now!: A Guide to Getting Your Painting, Sculpture, Novel, Memoir, Performance Piece or Other Creative Project Done
99. Start Selling Your Art to Tourists: A Guide to Making Money and Building Your Audience By Turning Tourists, Conventioneers, Visitors—and Locals—Into Customers
100. What's Your Artist Identity?: A Guide to Understanding Who You Want To Be as An Artist
101. How to Draw a Portrait: The Step-by-Step Guide on How to Draw Portraits in the Three-Quarters View
102. Resilience: Facing Down Rejection and Criticism on the Road to Success
103. Carving My Life, Volume I – Angela Treat Lyon ;-))
104. Mastering Skintones in Acrylics
105. Aspiring to Paint Like Van Gogh: A Practical Guide to Post Impressionist Art
106. How to Paint Like Van Gogh: A Practical Guide to Post Impressionist Art
107. Joining the Dots: the A-Z Handbook for Making a Success of your Creative Skills
108. The Many Masks of Graphic Artists: How to Get Started in the World of Graphic Arts, Everything you Need to Know, and the How to Make Money
109. 12 Charcoal Techniques
110. Six Pencil Techniques
Get the freebie ebook HERE, or click on the image below!